How to Prepare the Right Brief for Exhibition Stall Fabricator
Participating in an exhibition or an event is not a cakewalk. Just hiring the best exhibition stall fabricator may not make exhibition participation successful unless you give the proper "exhibition stand design brief" to your partner. And creating a brief does not start (or end) at "we need the best design for our booth". Here is one of our clients Diamond Modular at Acetech Delhi 2019, receiving The Grand Stand Award from the Jury for the magnificent stand design and execution.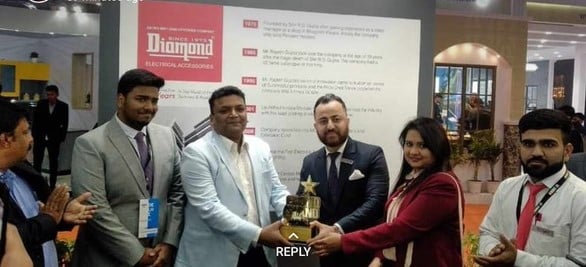 Let's dig deeper into this. How do to draft the right brief for your exhibition stall? What are the key points to consider?
We have answers to all your queries in the following pointers.
First things first, you need to decide the goals and objectives for taking part in an exhibit. For this, you need to establish the key pointers through review meetings with the relevant stakeholders and understand what is more important for making the exhibition a success.
Sometimes, there are several shows that you need to attend back-to-back. This where you need to prioritize and determine what needs to go in the stall to accommodate your current/future needs. Also, the different products that your brand is representing and which ones to focus on is another factor, which should be considered while drafting the exhibition brief.
That apart, different departments will have a different role to play in the overall process. The finance department, for instance, will verify the budget and approve the same. Similarly, the procurement department will need to take an informed decision when there are several proposals to consider. The legal department might get involved during the final evaluation of the contract. If there are any specific considerations from such departments, then you need to update your exhibition design fabricator about those well in advance so that there are no last-minute surprises or delays because of contract terms, payments, or legal complexities.
Once you have done this groundwork, here is what needs to be part of your exhibition brief to your partner –
Exhibition Details: This is fairly straightforward. It includes the name of the exhibition, dates, venue, your stall dimensions, number of open sides (and how many sides you would like to be open), the maximum allowed height at the exhibition, and the date by when you will get the possession of the exhibition hall. All these logistical details will help your exhibition stand design partner in their design and planning.
Your Brand: The next important factor is the information about your brand. You need to update the partner on what is your brand, values, your market, your target audience, products, and services, and what does your brand stand for. We typically ask our clients "what would you like to be the take-home impression of your booth visitors". This is probably the most important step in your briefing process.
Product Specifications: Your products are the central characters of your exhibition stand. They need to get due attention and space. Update your exhibition stall fabricator with all the details about your products, including size, weight, number, functioning, etc.
Exhibition Participation Objectives: Apart from who you are and what your brand stands for, you also need to clearly define your exhibition participation objectives – do you want to generate leads, increase brand awareness, improve customer relationships, change your brand positioning, launch a new product, build channel network, or just do market research. Do also explain your company tagline and what it really conveys. Communicating the right objectives helps in creating the right design.
Brand Colors and Logo Guidelines:Quite understandably,you will have specific guidelines and colors for your logos and overall brand communication. Share all the guidelines along with all your market materials – This will help your exhibition stall fabricator maintain brand communication consistency.
Functional Requirements: Coming to the functional aspects – do discuss with your partner your requirements such as – number of closed meeting rooms, lounge areas, storage requirements, pantry, display counters, presentation areas, tables, chairs, stools, A/V units such as LCD/Plasma/Projector/ Sound System/ LCD, etc. You might also want to include if you have any particular flooring requirements. If you need something specific such as a bar or a coffee maker, include that as well in your brief.
Your Past Experiences: This point might appear a little surprising here, but it is always better to learn from your past experiences and failures. Do share about what did not work in your past exhibition, what challenges you faced, and what would you like to be different.
This post might make you feel that preparing the exhibition brief is a time-consuming and tiring process. But based on our experience of designing and developing hundreds of stands all over the world, we can say that only through a comprehensive brief, you can make your exhibition successful. It will not only help you in smoother booth design and development but also maximize your exhibition RoI.
Need quick help? Download this Briefing Sheet and get ready for your next exhibition!